---
Tours of the manor house take place with a guide, in groups of up to 25 people. The tour lasts approximately 45 minutes. We ask all visitors not to leave the tour route during the tour, not to move away from the guide, and also to follow his instructions. It is forbidden to touch the exhibited objects, paint or mark on the walls, or otherwise damage the monument.
Parking

The main car park is in the village Šťáhlavice, approximately 1 km from the manor house (about 15 minutes walk). On the way to the manor house, you will walk around the Lopata pond and the natural landscape park that surrounds the entire manor house.

Odkaz mapa - 49°40'5.380"N, 13°31'27.124"E

You can also use the internal car park located approximately 150 m from the main building of the manor house, which is also suitable for disabled visitors and for participants in weddings or concerts.

Odkaz mapa - 49°40'19.924"N, 13°31'45.245"E
How to get to Kozel Manor House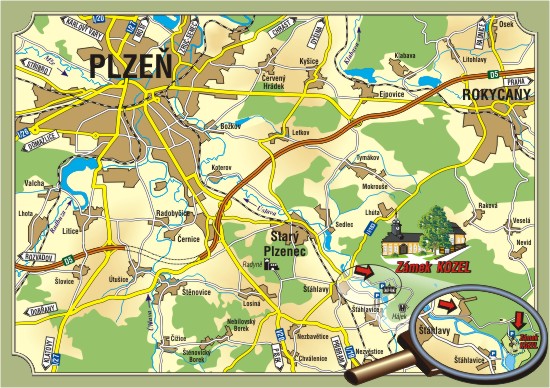 Distance from Kozel Manor House
Šťáhlavice (1 km)
Šťáhlavy (2,5 km)
Starý Plzenec (5 km)
Plzeň (15 km)
Rokycany (12 km)
Traffic signs of Kozel Manor House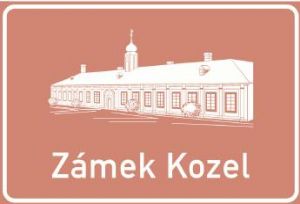 Accessibility

The entire manor house grounds and all of the tour routes are wheelchair friendly. We recommend disabled visitors take advantage of the services provided by Kozel Manor House administration.
Pets

Dogs are only permitted in the manor house grounds while on a leash. Dogs are not permitted on the sightseeing tours.
Cyclists

Cycling is prohibited in the entire manor house grounds complex. Bicycle stands can be found in the indoor car park, by the Café Kozel, by the Riding Hall and Servant´s Quarters.
Bicykle paths in manor house surrounding:
To Kozel Manor House you can get by bicykle paths number 2039 or 2154.
Child facilities

There are baby changing facilities in the public toilets.
Refreshments

Café Kozel is open to visitors directly in the manor house grounds. Other refreshment options are located by the main car park in the village Šťáhlavice, Bezejmenná čajovna (The Nameless Tea Room).
Other practical information
Post office
Česká pošta s. p.
Dr. Holuba 44, Šťáhlavy, 332 03
Telefon : 377 969 280
Otevírací doba: pondělí - pátek 8-10 hod., 14-17 hod.
Filling stations
MOL Česká republika, s.r.o.
Smetanova 1094, Starý Plzenec, 332 02
Provozní doba: pondělí - neděle 5.30-20 hod.

BENZINA, a.s.
Nezvěstice 344, 332 04
Provozní doba: pondělí - neděle 6-20 hod.
Emergency
LÉKAŘSKÁ SLUŽBA PRVNÍ POMOCI
Lékařská služba první pomoci (LSPP) pro dospělé, děti, stomatologii a pohotovostní lékárenská služba v Plzeňském kraji
ZZSPk - VS Plzeň-Lidická
Lidická 27
305 33 Plzeň