Weddings at Manor house Kozel
The Kozel Manor House is a popular place for wedding ceremonies. Below, you will find basic information for the happy couple.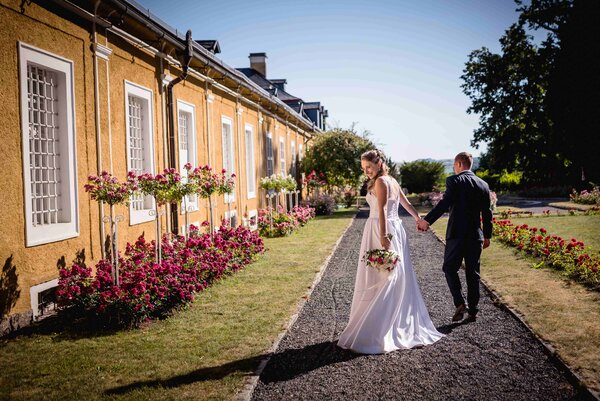 Wedding ceremony venues
If you decide to say I do at the Kozel Manor House, you can do so in the following areas:
The Chapel of the Holy Cross - civil and religious marriages take place here. There are 36 seats and 30 standing places. If you expect more guests, we allow the opening of the empora, which will increase the capacity to more than 100 people.

The so-called ,,Wedding Meadow" - a space next to the Riding hall. It is possible to prepare up to 100 seats. The capacity of standing places is unlimited. In case of bad weather, the marriage is automatically moved to the chapel.
Accompanying or complementary services
In addition to the possibility of taking photographs in the chapel and in the entire area of the castle park, we also offer the possibility of photography in the castle exhibition. There is a charge for this service.

In the manor house grounds, it is also possible to rent premises for organizing a wedding reception or banquet. The premises of the Blue Salon or the south terrace of the manor house are reserved for this purpose.

Ceremonial spaces are always decorated with live floral arrangements from our own garden.
Marriage dates
Wedding ceremonies take place only on Saturdays, on selected dates. Outside these days, only religious marriages may be arranged. Weddings always take place on the hour, from 10 am to 3 pm.
Booking a date
If you are interested in a binding reservation of the date, or have any additional questions, please don't hesitate to contact the administration department of the Kozel Manor House.
Telephone: +420 377 969 040, +420 777 461 075, email: kozel@npu.cz, polanova.vera@npu.cz
We would like to thank Veronika and David Šimek for the provided photos. Photo: René Michnerová.